Back with new blogskin!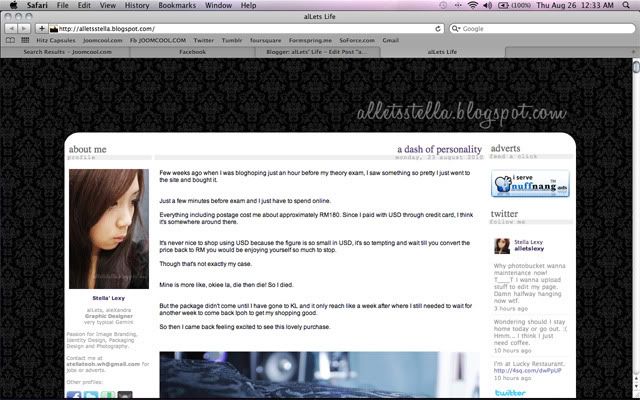 Been planning for a new one since a month ago.
Though this is not exactly a total revamp, but it looks different enough.
Gonna plan a total revamp when I got more skills.
Been wondering for a while if I should get my own domain, too.
But with the number of traffic I have been getting, I guess it's not worth to pay a domain for.
So probably not and might just stick with blogger.com for now.
Totally loving the new background!
Have always been wanting a pattern background for my blog.
Went out with Bell and Emiko few days ago.
Very semangat that night, dressing up in all black.
Blouse, pants, flats, make up, accessories and even bag are all in black.
Mad love the whole black look.
Cost me quite a bomb since I don't usually buy accessories.
But that's my first necklace and it's so awesome, I have to get it.
Also that night was the night I just got my hair cut.
With a little 70's twist in it.
And with lots of camwhore photos.
Max love how my hair looks in the pictures.
But I am kind of bored with plain straight hair and it makes me look so plain.
Am secretly wishing out loud to have my curls back and that, I'll have to wait till I have waist length hair for it.
Btw, if you are wondering...
yes, those pictures are with flash.
Imagine the weight of the camera when I camwhored FML.
For awesome photos, I am more than willing to.