I am only 22 this year (wouldn't want to admit I am 23 until my next birthday no matter the year is stepping a year ahead in another one day) and I already have quite a number of nephews and nieces.
But I have this crazy amazing niece, Chloe who dance and sing very well at only the age of 7.
Going on 8 in year 2011 but still, so young.
She love dancing and singing, she already know how to sing a lot of top hits by the age of 3 a few years ago.
Now, she takes singing and dancing lesson.
Mind you, not those hip hop whatever our youngster nowadays learn but she takes ballroom dancing classes.
Just two weeks ago, she had this performance at an Early Christmas dinner held by the dance academy she attend.
Honestly, I can't wait for her to start participating in competition and win prizes for being such an amazing dancer.
Photos below are a ChaChaCha performance with her partner at the dinner.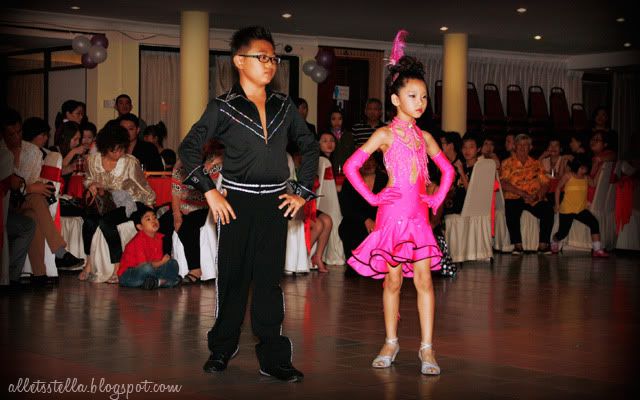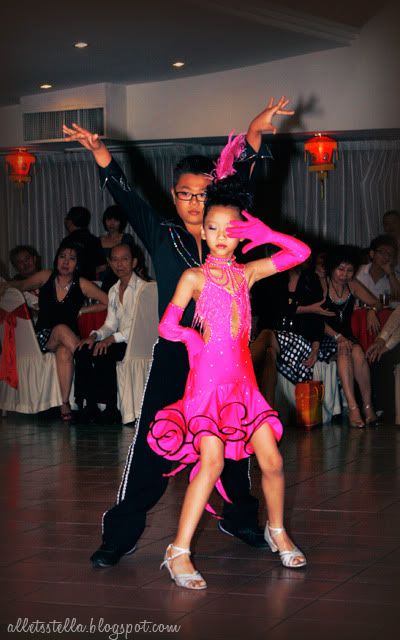 Aren't they good?
Or I am a good photographer to practically capture all the awesome poses? lol
I guess not me but them.
They are plain awesome!
I always find ballroom dance very interesting and I am actually so proud that my niece is doing it.
Plus such good performance.
I was sweating myself during their performance because I was so afraid that I couldn't capture all the nice picture.
I guess those photos were alright though I seriously need a lot more work on the flash.
I suck at flash photography.
This is her dance partner, of which I am not sure of her age.
I think they are either at the same age or the boy is older by a year.
Hopefully he wouldn't be her long term partner because you know how girl outgrown guy at certain age and he might not be able to match her height if she grow taller than him or he might not be able to hold her up if she gets heavy. lol
I sound damn mean but its kind of true.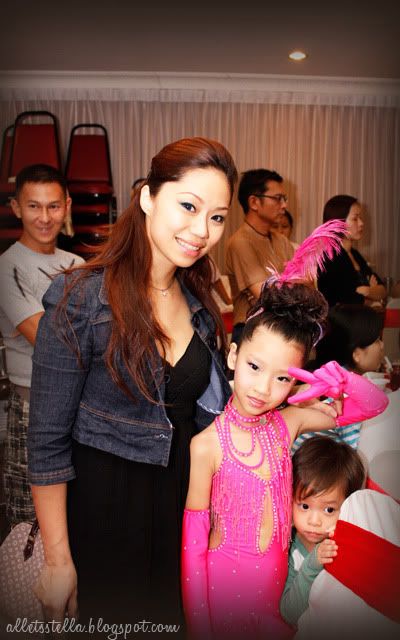 Now this is the hot mama of my niece, my cousin Yvonne.
See how nice my niece's hair and makeup was done?
It was done by her pretty Mom.
(My cousin insisted I always put the word 'pretty' whenever I talk about her. lol)
She's a mother of three in case you are wondering.
I hope she's gonna put all her daughters and son to ballroom dance lessons when they are old enough.
It's gonna be so awesome with all siblings who know ballroom dancing and even better if all were excellent in it.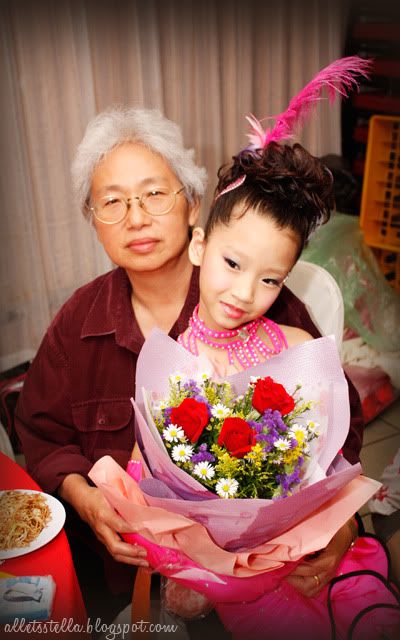 This is Chloe with her grandmother, my lovely aunt.
It's kind of weird to call my aunt grandmother already! lol
She's a lovely one though and she's the one who is taking care of Chloe full time.
When I say full time, it's really full time!
Full of commitment, too.
Last photo of Chloe with my another niece, my brother's daughter, ZhiEn.
She also started taking up ballroom dance lessons recently.
But she is still quite new in it and only participate in group performance hence the lack of photo during performance.
I couldn't get a clear shot of her due to her position at the back row of the group.
Here's the video of the performance captured by my cousin.
That's all for tonight and are you amazed yet?
I have awesome niece!!
Don't be jealous. lol