I know I have gone off M.I.A once again, I actually have stuff to blog about. Movies and stuff. Plus I still have about 14 more posts on
30 Day Challenge
.
But reaching on the Day 17 of the challenge, I have this feeling of just giving it up or skipping those post that I really don't know what to write about. The topics are getting quite challenging, I would put it as.
I'm almost stuck at Day 17 now and still have nothing to talk about. Maybe I shall just skip all the uninteresting topics based on my own judgement.
So anyway, I guess I wouldn't be updating my blog so often right now as I am busy with life. Though it doesn't seems that I have a lot of stuff to do, yet I have things to do almost every single day.
Also the fact that today I got suck back in to Tumblr again and this time I decided I should come out of it. Yes, I am going to publicize my Tumblr like all others of my social network pages.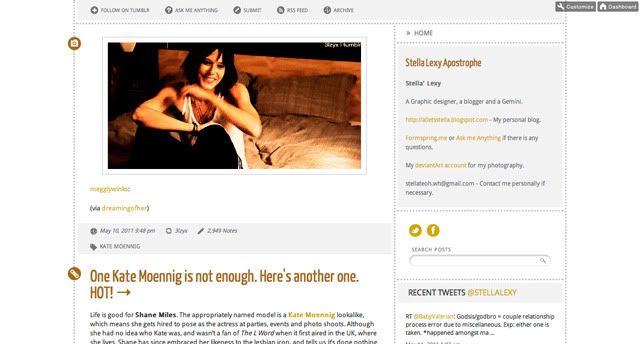 My Tumblr
will mostly be reblogs of quotes, photos and etc that I like. You might see things that you don't like or uncomfortable with over there. If so, I suggest you don't visit my Tumblr.
Still, I might be a little bit more active over in Tumblr because it's so easy to browse and reblog. And I love the new theme, I just got it today and also decided that I shall linked all my social network pages and blog into it.
And based on the current first post in my Tumblr as you can see from the screenshot above, I am back into The L Word once again. I can't remember when was the last time I watched Season 1 and a little bit of Season 2 but what the heck, there's Season 2 till Season 6 DVD lying on the cabinet in my hall since I moved in so wtf I was doing not watching it.
As usual I am obsessed with Kate Moennig again. Blah blah blah... you are not interested, okay fine.
Lastly, I want to say that I am currently very active in
Formspring
, I am basically addicted. Plus it's so easy over there. Someone asked a question, you answer a question. No need to think of topic to talk about and I love the interactions.
So do drop a question or two if you dropping by my Formspring, not forgetting the fact that I have a Formspring little box at the sidebar here. By the way, no nasty or disgusting questions please. I have been getting some almost psychotic nasty questions these few days from some anonymous. Deleted and gone of course.
That's all for now! I will be right back!
And o'yeah, I updated my little social network icons on my sidebar profile there if you wanna check them out.
http://alletsstella.tumblr.com/