I think most people doesn't really know that I have a tumblr account and I plan to keep it that way. Nothing much of a secret but nothing to publicize about either.
The topic about my favorite tumblrs, I wouldn't say its irrelevant. But since I am doing this in my Blogger blog instead, I am thinking to add in my favorite blogs as well.
Let's start of with my favorite Tumblrs.
It's been a while since I log on to my tumblr account and have a surf. A lot of Tumblrs that I used to follow are now mostly inactive already. Which is quite a sad thing. And I have yet the time to discover new Tumblrs to follow.
But I still have two Tumblrs to share.
The blog owned by a girl from London, mostly repost of pretty photos and quotes. I don't know why I like it, I just do. And it's still active.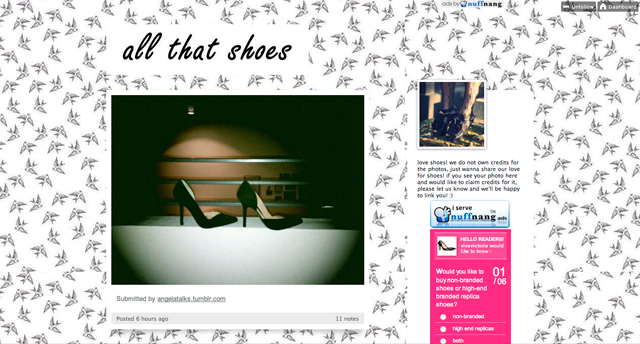 It's clearly written in the blog title, it's all about shoes. Specially for shoes lovers. The blog is owned by a Singaporean girl if I am not mistaken. Also mostly repost if I am not mistaken but definitely an awesome collection of shoes photos.
It's very interesting and most shoes are so pretty.
That's the only two of my favorite Tumblrs that's actually still active I guess.
Next would be my favorite blogs.
Actually, I would say most blogs in my blogroll are my favorites. Or else I wouldn't be following them, would I?
But I think that's too many to share here. So here's two of my full time favorites as well as two newly found favorites.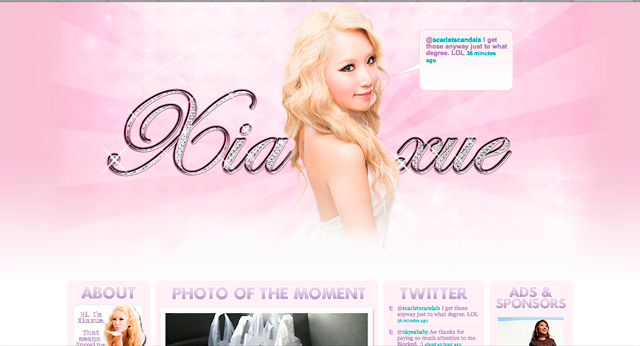 I can save my explanation and elaboration on this two as I supposed most bloggers would have known or heard about both of them.
Some people might not like XiaXue due to her controversial topic in her blog and her blonde hair. But I think she's an awesome blogger other than her random bitchiness at times.
She made it big being a blogger and hence, I salute her.
While Cheesie aka. Ringo, I read her blog since before she joined Malaysian Dreamgirls and... I just like. Don't ask me why, I don't know. Maybe it's because of her pretty camwhore photos, maybe it's because of her random-ness, maybe it's because of her Cheat One post, maybe because it's every other thing, I just like her. Or her blog in this sense.
I have been reading these two blogs for years, never once fail me hence hands down, it's both my all time favorites no doubt.
While next would be my newly found favorites, one of which I have just found barely a week ago but definitely hooked.
I found Jen From Head to Toe (Jen in short) when I was browsing for makeup tutorial in Youtube and she did this awesome makeup tutorial of Sandara Park from 2NE1 in the Clap Your Hands MV. She looks hell lot like Sandara herself!
She's a Youtube makeup guru and her blog is mostly about makeup, fashion and the like. Based on her blog title, it's from head to toe so anything's relevant applies.
I love her videos, I love her blogs, I love her photos.
While Wendy's Lookbook is own by this awesome girl with superb personality. Not that I personally know her but she's a fashion guru in Youtube and if you watch her videos, you would understand what I meant by awesome personalities.
Her blog features mostly of what her wear and rarely of her personal life. It was interesting, she has perfect photos from awesome photographers.
Her videos are crazily addictive, or she's crazily addictive. I found her blog and Youtube channel when I was browsing through makeup and fashion gurus blog. She's quite new in all these, but she's crazily good. And her videos are all professional recorded and edited.
Hence, I, too, love love love Wendy's Lookbook.
I guess I just have a lot of loves since I love love love these and those, here and there. But no love is too much, right?
Anyway, feel free to share with me your favorite blogs in the comments! Would love to discover more great blogs with great personalities behind.